WARNING UPDATE: Though several studies suggest Ivermectin may be an effective treatment for COVID, there is increasing evidence that people are self-medicating with the drug, overdosing and poisoning themselves. This is a drug, and should not be taken without a doctor's prescription. READ: Kansas medical experts warn against rising self-use of ivermectin to treat COVID-19 AND CDC warns of increased Ivermectin overdoses
Original Article continues here….
Ivermectin has been used for decades to treat a range of parasites and now, some countries, such as India, are claiming that the drug has helped curb COVID. READ: Covid cases falling in the parts of India that approved Ivermectin use
And Mexico City is the latest to report that Ivermectin may be an effective COVID treatment. According to a recent study, Mexico City saw a reduction in hospitalizations for COVID by between 52% and 76% when Ivermectin was included as part of the treatment for COVID.
The study conducted by Mexico's Ministry of Health, Mexican Digital Agency for Public Innovation (DAPI), and the Mexican Social Security Institute (IMSS) tracked 20,000 people where about half received Ivermectin as part of their treatment and half didn't.
The city saw such a profound change, officials actually produced a kit that included Ivermectin, which people could take home and use if they started showing symptoms for COVID.,
READ: After Mexico City introduced ivermectin plan, COVID hospitalizations and deaths disappeared AND Mexico City Wide Innovative Population-Level Study Administers Ivermectin-based Home Kits with Drastic Reduction in Hospitalizations
Here is a chart tracking COVID cases in Mexico City, noting the point when Ivermectin became part of treatment.
Here is India's chart revealing the point when they started using Ivermectin to treat COVID: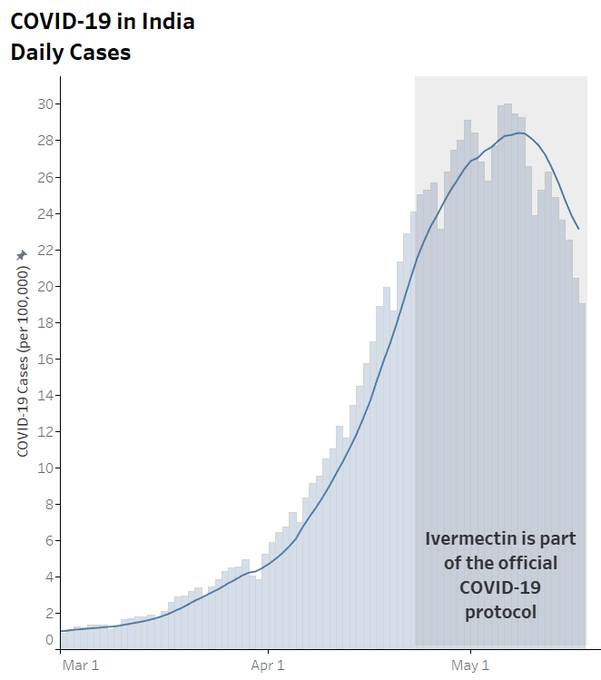 And now a peer reviewed study is reporting that Ivermectin may be an effective treatment for COVID. READ: Is Ivermectin The Ultimate Ram Baan to End COVID-19 Pandemic? All You Need to Know
The Canadian province of Manitoba has recently reported a spike in COVID cases, and a reporter asked the Manitoba Premier, Brian Pallister, if the province had considered using Ivermectin as treatment. Try not to roll your eyes.