By the blaring silence, it is obvious most of the mainstream media didn't like the recent death rate numbers released by CDC concerning the coronavirus.
And since the CDC's new adjusted number didn't jibe with the mainstream media messaging, they predictably ignored it. This new number doesn't help if you are trying to get clicks and spread fear and panic.
According to CDC's report, the agency provided its best estimate based on the fact that more people have come down with the disease than originally thought. We know that 80% of the people who contract the virus have minimal or no symptoms. As a result, they never went to the doctor and were never tested, but they still had the virus.
With a death rate of .4% based on current testing, the CDC estimated that approximately 35% more people have contracted the virus. This is reflected in several antibody testings around the US showing many more had the virus. Once this adjustment is included, it puts the death rate at .26%. This is a fraction of the 3% to 4% put out by WHO, that led to the worldwide lockdown.
But even CDC's official testing numbers show that the virus's impact was very age centric, with the elderly hardest hit. The chart below provides an official breakdown by age group, but does not include CDC's 35% adjustment noted above.
Using the last column in the chart below, for those between the ages of 0 and 49, the death rate is .05%, for those between the ages of 50 to 64 it is .2% and those 65 and older it's 1.3% with an average of .4% without the 35% adjustment.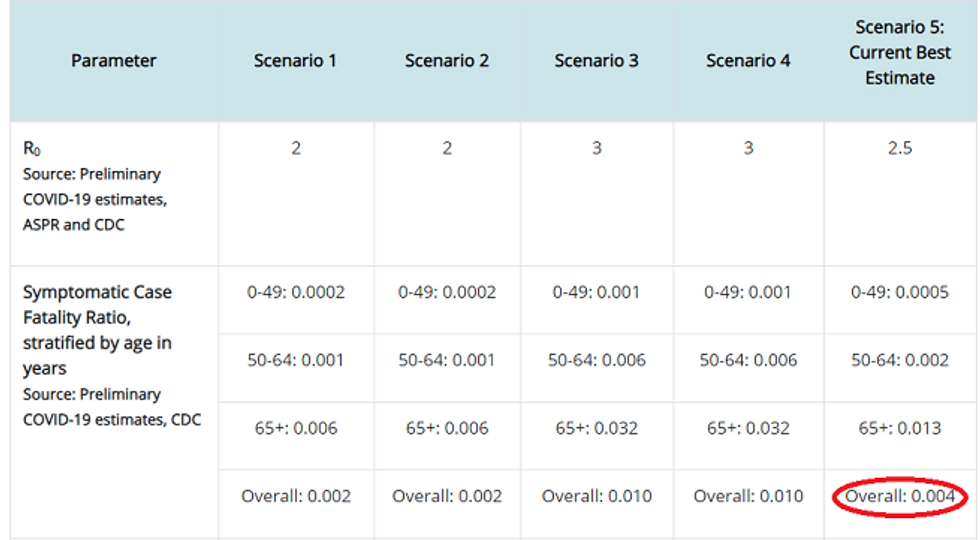 Based on CDC's non-adjusted numbers, the death rate for those aged 65 and older is 26 times higher than those under the age of 50.
This begs the question, why was everyone put in quarantine when it was clearly the elderly who were most vulnerable and needed to be protected, and why did several states send patients with COVID-19 to nursing homes?
Others, like Dr. John Ionnidis of Stanford University, suggest that the 35% estimate of how many more people contracted the virus is even too low and put the number at closer to 50% leaving a death rate of .2%.
READ: Horowitz: The CDC confirms remarkably low coronavirus death rate. Where is the media?