WARNING UPDATE: Though several studies suggest Ivermectin may be an effective treatment for COVID, there is increasing evidence that people are self-medicating with the drug, overdosing and poisoning themselves. This is a drug, and should not be taken without a doctor's prescription. READ: Kansas medical experts warn against rising self-use of ivermectin to treat COVID-19 AND CDC warns of increased Ivermectin overdoses
Original Article continues here….
The mainstream media seems to have lost interest in what is happening in India. For a few days, it was front page news as they terrorized the rest of the world about the India variant of COVID.
The loss in interest may be due to the fact that COVID cases and death counts started dropping in parts of India because of a 50 cent drug called Ivermectin. The drug is cheap, safe and has been used for years on adults, children, dogs, cats, livestock…
From JoNova's blog:
Things are turning around in India — starting within days of increasing the use of Ivermectin again.

But where is the media? Who is reporting that the turnaround in some states of India has started within a couple of weeks of the expanded use of Ivermectin — the 50 cent old drug that has been used for 3.7 billion prescriptions worldwide, given to children to treat headlice, scabies and worms and is used by the ton on cattle and sheep farms.

On April 20th, New Dehli, AIIMs reccommended Ivermectin be added to the take home care package. So people getting tested would be able to start early treatment.

Cases started slowing down almost immediately.

On May 10th the Health Minister for Goa recommended the use of Ivermectin in Goa. Indeed, he offered it to the entire adult population.

The next day, the WHO, ever so helpfully, warned against the use of Ivermectin in India.
READ: Covid cases falling in the parts of India that approved Ivermectin use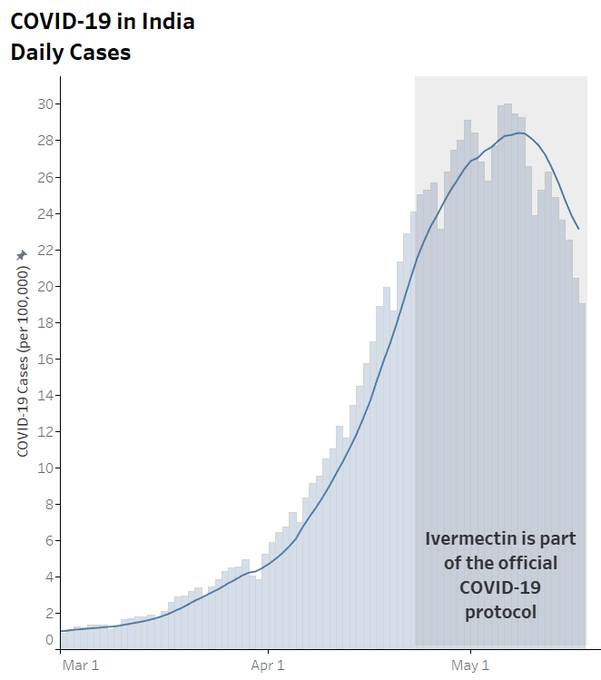 From Dr Justice Hope in The Desert Review:
Just three weeks after adding Ivermectin, Delhi now leads India out of the deadly second surge of the COVID pandemic. Cases that had peaked at 28,395 on April 20 plummeted nearly 80% to just 6,430 on May 15. Deaths peaked May 4, and now they are also down 25%. […]

Meanwhile, three other Indian states have followed Goa's lead in adding Ivermectin: Uttarkhand, Karnataka, and Uttar Pradesh. And, as expected, they have seen a drop in new daily cases as well, with Uttar Pradesh down nearly 75% from a peak of 37,944 just four days after they began following the April 20 AIIMS guidance to just 10,505 on May 16.
READ: Ivermectin crushes Delhi cases
A peer-reviewed study of Ivermectin published in the American Journal of Therapeutics concluded:
The authors found a large, statistically significant reduction in mortality, time to recovery, and viral clearance in COVID-19 patients treated with ivermectin.[…]

"Our latest research shows, once again, that when the totality of the evidence is examined, there is no doubt that ivermectin is highly effective as a safe prophylaxis and treatment for COVID-19," said Paul E. Marik, founding member of the FLCCC and Chief, Pulmonary and Critical Care Medicine at Eastern Virginia Medical School in the US.

"We are calling on regional public health authorities and medical professionals around the world to demand that ivermectin be included in their standard of care right away so we can end this pandemic once and for all," Paul E. Marik added.
READ: Is Ivermectin The Ultimate Ram Baan to End COVID-19 Pandemic? All You Need to Know